Due to the closure of exhibition spaces and the unpredictability of future loosening of social distancing rules The London Group has arranged a sequence of on-line exhibitions. This included both our Annual Exhibition for 2020 and a range of themed shows proposed and organised by individual members and open to all members.  In each of these members were invited to show one piece.
I have participated both in the Annual  on-line and in three of the themed on-line exhibitions to date  – 'Isolation', 'Wish You/We Were Here/There', and 'Colour'.  All the Group's on-line exhibitions, features and newsletter are still available at www.thelondongroup.com and further shows are planned for 2021.
Firstly in late January there will be an on-line taster – 'In The Dark 3 Smorgasbord'  – for a hopefully post-lockdown actual show in The Cello Factory in the summer. The taster will take the form of a single video conceived and constructed  by Nicola Schauerman of Genetic Moo; it will incorporate a variety of materials (visual and audio) submitted by members.  Secondly, 'In Plain Sight', conceived  by Judith Jones and Tim Craven, will open 'live' at the Thelma Hulbert Gallery in Honiton, hopefully, in late March.
In TLG's 2020 on-line Annual I showed: 'Away-Day Bus Stop at Castle Albion', oil on canvas, 90cmx56cm: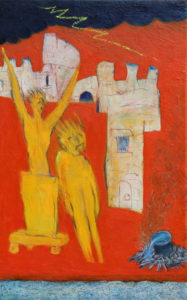 In 'Isolation',  themed around members' responses to lock-down, I showed a digital image 'PPE':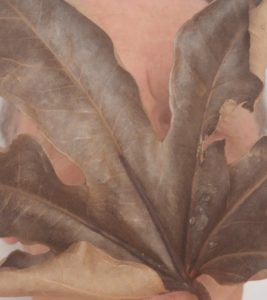 In 'Wish you/we were here/there', members were invited to design a 'postcard' responding to the pandemic plight. I submitted a 'celebration'  of the British seaside postcard –  'HISTORIC BLIGHTY-AT-SEA WELCOMES YOU TO ITS GLORIOUS SANDS':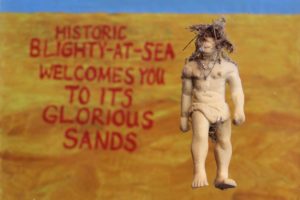 The 'Colour' feature was included in The Group's most recent  newsletter. Members were asked to  write briefly about their attachment to specific colours and to provide an accompanying image. Cerulean Blue was my inescapable focus. Here are my text and image:
Caerulean/Cerulean Blue…it's always crucially in the mix in some form whenever I paint…a trick of the sun's light which gives us the seeable yet non-existent over-arching membrane that seems to enclose us down here and to  shut us off from the absolute otherness beyond. It's against this groundless backcloth that we are able to figure and refigure (seemingly, in art at least, without end…) everything (the all-too-close and the all-too-distant) between ourselves and, simultaneously, between it and ourselves.
But every such figuring-for-art doesn't give us anything outside art. 'In lovely blueness'* each can offer us nothing but itself alone and, with luck, a taste of art's own earth-bound otherness, its absolute difference from everything else we like to think we 'know' all too well. Even this possibility can hold only as long as the sun, daylight, and our eyes are somehow still clinging on…
*Holderlin